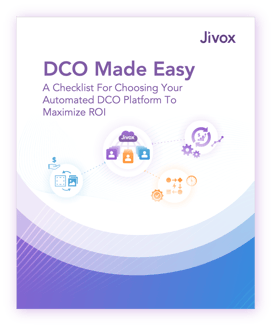 There are plenty of DCO solutions available today, but not all are created equal. You need a robust platform that goes beyond just creative versioning to offer automation that reduces manual labor costs and improves performance. This full DCO lifecycle automation is how Jivox delivers ROI to brands.
So, how do you select the right platform from among the sea of available options?
In our step-by-step checklist, we break down the critical capabilities you need across three categories of automation along the DCO lifecycle: creative, workflow, and performance.
Get your checklist to access:
30 plus questions to ask while evaluating a DCO platform's automation capabilities to drive ROI
Bonus questions to test a platform's readiness for handling first-party consumer data
Real-world examples of how global brands are using automated DCO to achieve digital marketing success